John Gallagher, Max Meow, October 25 at Gilman School and St. James Academy, and October 27 at Powhatan Elementary School
Showing all 4 results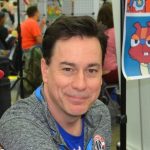 John Gallagher is the art director of the NWF's Ranger Rick magazine and cofounder of "Kids Love Comics" (an organization that uses graphic novels to promote literacy), and he leads workshops teaching kids how to create their own comics. John lives in Virginia with his wife and their three kids.
These visits are for the Gilman School, St. James Academy and Powhatan Elementary School communities.
Online orders are now closed. Please call The Ivy at 410-377-2966 to see if we have any copies of John Gallagher's books on our shelves.