Jon Agee, November 15-19, Multiple Schools and The Ivy Bookshop
Showing all 7 results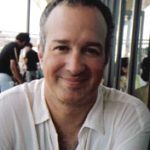 Jon Agee is the author/illustrator of many acclaimed books for children, including the Boston Globe-Horn Book Honor winner It's Only Stanley and the ALA Notable Books Little Santa, Terrific, Milo's Hat Trick and The Incredible Painting of Felix Clousseau, and a series of popular wordplay books including the IRA-CBC Children's Choice book of palindromes, Go Hang a Salami! I'm a Lasagna Hog! He also wrote the absurdly clever and funny graphic novel, told entirely in palindromes, Otto: A Palindrama.
These events are for Gilman School, St. James Academy, Powhatan Elementary School, Bryn Mawr School, Roland Park Country School and Friends School. The Ivy is hosting Jon for a Celebration of Humor on November 19 at 2pm. For details, click here.
Please place orders by November 1 to ensure book availability in time for the events.
| Image | Name | Book Author | Description | Price | Buy | price_hsort |
| --- | --- | --- | --- | --- | --- | --- |
| | It's Only Stanley | Jon Agee | Mysterious noises keep waking up the Wimbledon family. "That's very odd," says Mr. Wimbledon each … | | | 16.19 |
| | Life on Mars | Jon Agee | A young astronaut is absolutely sure there is life to be found on Mars. He … | | | 16.19 |
| | Lion Lessons | Jon Agee | There are seven steps to becoming a proper lion, including Looking Fierce, Roaring, Prowling Around, … | | | 16.19 |
| | Little Santa | Jon Agee | Little Santa loves the North Pole. The rest of his family?  Not so much. So, when they … | | | 16.19 |
| | Otto: A Palindrama (hardcover) | Jon Agee | Otto is having a very palindramatic day. His pet, Pip, has gone missing, and his … | | | 16.19 |
| | Otto: A Palindrama (paperback) | Jon Agee | Otto is having a very palindramatic day. His pet, Pip, has gone missing, and his … | | | 9.89 |
| | The Wall in the Middle of the Book | Jon Agee | There's a wall in the middle of the book, and our hero–a young knight–is sure … | | | 17.09 |