Matthew Swanson and Robbi Behr, March 2 at The Ivy and March 3 at Calvert School
Showing all 5 results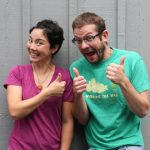 Matthew Swanson and Robbi Behr, March 2 at The Ivy and March 3 at Calvert School

Tuesday, March 2, 7 pm
The Ivy is excited to celebrate the launch of a new illustrated middle grade series from Maryland-based author/illustrator dynamic duo, Matthew Swanson and Robbi Behr! In Book One of The Cookie Chronicles, Ben Yokoyama and the Cookie of Doom, we meet Ben, a literal-minded kid with a big heart and an even bigger sweet tooth, who cracks open a fortune cookie and discovers that today might be his last day on Earth!
Pre-order your copy here and get a signed bookplate or order a "Barn Edition" to get a signed and dedicated copy!
Click here to register for this event!
The March 3 event is for the Calvert School community.