PRE-ORDER Elissa Brent Weissman's The Renegade Reporters (8/2021)
Showing all 8 results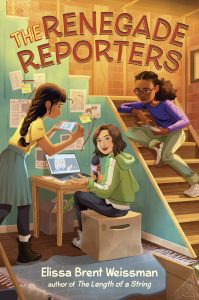 The Ivy is excited to be part of the pre-order campaign for Elissa Brent Weissman's latest book, The Renegade Reporters, due out August 10, 2021. Pre-order your copy by July 1, 2021, and get a personalized, signed bookplate!
Can't wait? Order any of Elissa's other books, listed below! And be sure to watch our recent Lift Every Voice Virtual Book Club, which includes Elissa reading from The Length of a String, by clicking here.
Elissa is the award-winning author of several middle grade novels, including The Length of a String and the Nerd Camp series. She also edited Our Story Begins, an anthology of writing and art by today's kids' book creators back when they were kids themselves. She is a graduate of Johns Hopkins University and earned a master's degree in children's literature at the University of Roehampton in London. After spending many years in Baltimore, where she taught creative writing to children, college students and adults, and was named one of CBS Baltimore's Best Authors in Maryland, Elissa currently lives with her family in Christchurch, New Zealand.