Susan Kusel, March 7 at at Berman-Lipavsky Religious School (9:30am), and Susan Kusel and Sean Rubin (Illustrator), The Ivy (11am)
Showing the single result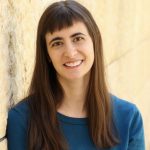 Lift Every Voice Virtual Book Club: Susan Kusel and Sean Rubin, The Passover Guest (ages 4-8)
Sunday, March 7, 11 am
The Ivy is excited to celebrate Passover with a very special visit from author Susan Kusel, who will read her first picture book, The Passover Guest, a fresh retelling of a classic I. L. Peretz story. We will also be joined by the illustrator, Sean Rubin.
It's the spring of 1933 in Washington, DC, and the Great Depression is hitting young Muriel's family hard. Muriel assumes her family is too poor to hold a Passover Seder this year, but an act of kindness and a mysterious magician change everything.
Click here to register for this event!
Susan is also visiting Berman-Lipavsky Religious School on March 7 at 9:30 am. This event is only for the school community.
Image
Name
Book Author
Description
Price
Buy
price_hsort

The Passover Guest
Susan Kusel
Muriel assumes her family is too poor to hold a Passover Seder this year–but an …

$

18.99
17.09